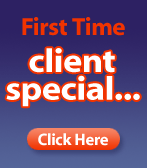 Tip of the Week
Make sure your photos are 300 dpi or better. What does that mean?
It means DON'T pull your photos off your website. Use the original photos from your digital camera, or scan color prints at the highest resolution your scanner will allow.
Warning: Low-Resolution Images Don't Print Well!
Many images, particularly 72dpi jpegs taken off the Internet, look jagged and blurry when printed on paper, especially glossy stock. Those images have already been reduced in resolution so they load fast on the internet, and you can't go backwards to make a low resolution file into high resolution. You need to start with a high resolution file. For best results, we recommend that your images be at least 300dpi (dots per inch). The best thing to do is send us the original images from your digital camera.
To get good images from your digital camera, use the highest quality setting available on the camera.

Services and Conditions of Use
As part of our service, we agree to provide you with information and other services that we may decide to offer, subject to the terms of this agreement. Upon notice published through the service, we may modify this agreement at any time. You agree and continue to agree to use our services in a manner consistent with all applicable laws and regulations and in accordance with the terms and conditions set out in the policies and guidelines outlined below. Please note that you will be referred to as 'customer' in this agreement.
Rules For Online Conduct
By using the service, you agree that you will not attempt to undermine the integrity of this web site.
Limitation Of Liability And Warranty
CUSTOMER AGREES THAT USE OF THE SERVICE IS ENTIRELY AT CUSTOMER'S OWN RISK. SERVICES ARE PROVIDED 'AS IS,' WITHOUT WARRANTY OF ANY KIND, EITHER EXPRESS OR IMPLIED, INCLUDING WITHOUT LIMITATION ANY WARRANTY FOR INFORMATION, SERVICES, UNINTERRUPTED ACCESS, OR PRODUCTS PROVIDED THROUGH OR IN CONNECTION WITH THE SERVICE, INCLUDING WITHOUT LIMITATION THE SOFTWARE LICENSED TO THE CUSTOMER AND THE RESULTS OBTAINED THROUGH THE SERVICE. SPECIFICALLY, WE DISCLAIM ANY AND ALL WARRANTIES, INCLUDING WITHOUT LIMITATION: 1) ANY WARRANTIES CONCERNING THE AVAILABILITY, ACCURACY OR CONTENT OF INFORMATION, PRODUCTS OR SERVICES; AND 2) ANY WARRANTIES OF TITLE OR WARRANTIES OF MERCHANTABILITY OR FITNESS FOR A PARTICULAR PURPOSE.
THIS DISCLAIMER OF LIABILITY APPLIES TO ANY DAMAGES OR INJURY CAUSED BY ANY FAILURE OF PERFORMANCE, ERROR, OMISSION, INTERRUPTION, DELETION, DEFECT, DELAY IN OPERATION OR TRANSMISSION, COMPUTER VIRUS, COMMUNICATION LINE FAILURE, THEFT OR DESTRUCTION OR UNAUTHORIZED ACCESS TO, ALTERATION OF, OR USE OF RECORD, WHETHER FOR BREACH OF CONTRACT, TORTIOUS BEHAVIOR, NEGLIGENCE, OR UNDER ANY OTHER CAUSE OF ACTION. CUSTOMER SPECIFICALLY ACKNOWLEDGES THE SERVICE IS NOT LIABLE FOR THE DEFAMATORY, OFFENSIVE OR ILLEGAL CONDUCT OF OTHER CUSTOMERS OR THIRD-PARTIES AND THAT THE RISK OF INJURY FROM THE FOREGOING RESTS ENTIRELY WITH CUSTOMER.
NEITHER THE SERVICE NOR ANY OF ITS AGENTS, AFFILIATES OR CONTENT PROVIDERS SHALL BE LIABLE FOR ANY DIRECT, INDIRECT, INCIDENTAL, SPECIAL OR CONSEQUENTIAL DAMAGES ARISING OUT OF USE OF THE SERVICE OR INABILITY TO GAIN ACCESS TO OR USE THE SERVICE OR OUT OF ANY BREACH OF ANY WARRANTY. CUSTOMER HEREBY ACKNOWLEDGES THAT THE PROVISIONS OF THIS SECTION SHALL APPLY TO ALL CONTENT ON THE SERVICE.
Trademarks
All trademarks appearing on the service are trademarks of their respective owners.

New To Our Site?
Exclusive Offers
Become a MyPrintShopOnline Insider to receive exclusive offers and tips
Fill out this form
to sign up...

Sign up now to receive your FREE subscription to our Print Marketing Tips Newsletter. It's packed full of valuable tips to help you reduce your printing costs and market your business more effectively. a $147 value -- yours FREE! Plus save 10% on your first order.