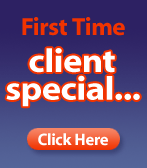 Tip of the Week
Make sure your photos are 300 dpi or better. What does that mean?
It means DON'T pull your photos off your website. Use the original photos from your digital camera, or scan color prints at the highest resolution your scanner will allow.
Warning: Low-Resolution Images Don't Print Well!
Many images, particularly 72dpi jpegs taken off the Internet, look jagged and blurry when printed on paper, especially glossy stock. Those images have already been reduced in resolution so they load fast on the internet, and you can't go backwards to make a low resolution file into high resolution. You need to start with a high resolution file. For best results, we recommend that your images be at least 300dpi (dots per inch). The best thing to do is send us the original images from your digital camera.
To get good images from your digital camera, use the highest quality setting available on the camera.
100% Satisfaction Guarantee
We want you to be very happy with our printing! If you are not happy with the work we do, we will make it right. It's that simple. Please realize that monitor calibration varies widely, and it is impossible for us to run all jobs to match what different clients see on their monitors. We run to uniform ink levels and a "pleasing color" standard that is based on the PMS colors listed in your file. We will complete your project in accordance with industry-wide trade standards for color and registration. If you find an error that we created, or any other manufacturing defect, simply email us for return instructions. (We will even pay for the freight to return the job if it is our mistake.) When we receive your job back, we will reprint it at no cost to you, from your original file.
This guarantee does not cover customer errors like incorrect copy or poor photography, so be sure to check your proof carefully. You can be assured that we want your job to look its very best!
If we are doing the design work, once you approve the final proof, you take full responsibility for any errors on copy or design – no matter how you gave us the copy in the first place. Even if it was correct when you gave it to us, and then somehow something in the design process caused an error or omission, YOU are still responsible to review and approve the final proof. All printing quality guarantees still apply.
We stand behind our products, and any other quality defect will be handled in an expedient manner.

New To Our Site?
Exclusive Offers
Become a MyPrintShopOnline Insider to receive exclusive offers and tips
Fill out this form
to sign up...

Sign up now to receive your FREE subscription to our Print Marketing Tips Newsletter. It's packed full of valuable tips to help you reduce your printing costs and market your business more effectively. a $147 value -- yours FREE! Plus save 10% on your first order.