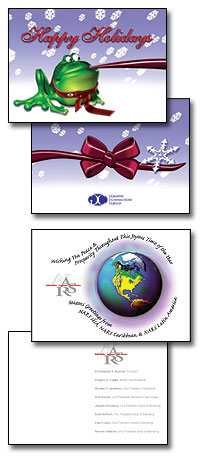 A Business Post Card Will Produce Results
Postcards are miniature billboards in the mailbox, and make sense for most small businesses. The fact is that postcard marketing is a very effective marketing tool to reach your target prospect. Whether you are a real estate agent looking for real estate marketing postcards Just Listed or Just Sold postcards, or a local dry cleaner looking to expand your buisness, postcards are a very inexpensive and effective tool. Use eye-stopping graphics and benefit-oriented headlines and text, and your prospect will "Get your message" the minute he or she picks-up the mail.
Postcards Maximize Visibility!
Our postcards are printed in full color on both sides on premium quality coated one side or coated two sides stock. We use 10 point thickness. You can choose to varnish them if you like. Postcards work because they get seen as soon as the person picks up the mail. Our favorite postcard is our special oversized card that measures 5.5" x 11". Boy does it stand out in the mail! Unlike direct mail messages hidden in envelopes, every person who handles your postcard sees your sales message. A hard-hitting design can really attract customers. And, as you well know, you can never predict who on that list of accidental, secondary and pass-along viewers, who just happen to see your marketing message as they are carrying the mail from one place to another, and might become one of your best new customers!
Postcards Outperform Other Marketing Vehicles!
All things considered, postcards are without-question one of the most cost-efficient, hard-copy advertising, promotion and information dissemination vehicles available today. Dollar-for-dollar invested, postcards outperform practically every other direct communication medium, including print, radio and television.
Postcards Work VERY Well!
Full color postcards attract attention and GET SEEN!. The fact is that in a typical pile of mail, full color postcards standout much more so than a white or brown #10 envelope. And the larger the postcard, the more it stands out. Our favorite is the 5.5 x 11 size, which is larger than most other pieces of mail, yet still can be mailed for a single first class stamp or standard mail letter size. They grab the reader's attention. People will notice your headline even if they are just flipping through the mail.
Postcards Don't Lie.
I'm sure we have all received the direct mail piece that looks like a check. Or how about one that looks like it is from your bank or the IRS? They are all trying to "trick" you into opening the envelope. This method can often lead to distrust from the potential customer
Postcards are Miniature Billboards filled with benefit-rich text. If you design them right, you can draw in the prospect with a compelling headline.
Give you more bang for your buck - They are cheaper to purchase than other forms of direct mail or advertising, and they often get better results.

You can target Specific market segments with postcards. - Unlike a billboard or radio ad, you can mail to specific target markets to spend your marketing dollars where they will be most effective.
They are easy to handle!
No envelopes to stuff, lick and stamp and no brochures to fold. Full color commands full attention!
Study after study substantiates the fact that full color printing outperforms one or two color printing in all statistically measurable areas. Prospects notice full color printing. Period. They read the messages more often. Remember the message more often, and remember the advertiser or brand more often.
Postcards Help to Improve Your Image.
Even if a prospect doesn't act immediately as a result of seeing a postcard, the positive image a well-designed postcard can produce will help to get their attention or get them to remember you in the future. Image does matter, and a regular postcard mailing program will help enhance that image. Nothing can do more to convey your company's professional image than a well-designed, well-written, full color postcard campaign.
MyPrintShopOnline.com offers three primary sizes of postcards.
Regular at 4.25" x 5.5", Jumbo at 5.5" x 8.5", and Oversized at 11" x 5.5". All are available in full color on both sides, and available in 8 point C1S or 10 point C1S stock. (C1S stands for coated one side. That is gloss on one side and uncoated on the other side)
Ordering Online post card printing need not be difficult. www.MyPrintShopOnline.com makes ordering custom post card printing services a piece of cake. Whether you want post card printing and design, discount post card printing, or just a post card printing quote, it is easy with our site. We specialize in real estate postcards, mortgage postcards, and all other types of business postcard printing. If you want cheap post card printing, you have come to the right place.
Just pick the category of postcards that interest you, and then use our pricing worksheet to figure your price.
Once you are satisfied with the price, just fillout the rest of the information requested and click the add to cart button.
You will be prompted to upload your file. You can use virtually any graphics program, and your postcards will be on their way in no time at all. Get started with your postcard order today!
mortgage postcards ~ real estate postacards ~ general marketing postcards ~ just listed postcards ~ just sold postcards