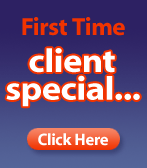 Tip of the Week
Make sure your photos are 300 dpi or better. What does that mean?
It means DON'T pull your photos off your website. Use the original photos from your digital camera, or scan color prints at the highest resolution your scanner will allow.
Warning: Low-Resolution Images Don't Print Well!
Many images, particularly 72dpi jpegs taken off the Internet, look jagged and blurry when printed on paper, especially glossy stock. Those images have already been reduced in resolution so they load fast on the internet, and you can't go backwards to make a low resolution file into high resolution. You need to start with a high resolution file. For best results, we recommend that your images be at least 300dpi (dots per inch). The best thing to do is send us the original images from your digital camera.
To get good images from your digital camera, use the highest quality setting available on the camera.
Brochure Printing ~ Full Color Printing ~ Business Printing Personalized Stationery ~ Letterhead ~ Full Color Post Card Printing Color Copies ~ Business Cards ~ Newsletters ~ Booklets ~ Full Color Catalogs
Massive Discounts, Personal Service
Better Than Your Local Printer
We actually answer the phones and help you with live people who care about you and your order. The pictures you see on this site are the real people that bend over backwards to help you. You will find our prices to be anywhere from 10% to 90% less than other local printers and online sources.
It's simple. Just click on the product you want. Figure your price right online, and place the order.
What you see is what you pay! No Set-Up Charges or hidden fees.

You can use your own file or we will do a

Custom Design

just for you.

Never leave your desk to approve your proofs - we send them to you via email

You job ships the same day it rolls off the press -Fast Turnaround

Save money on sales tax in 49 states.

We bend over backwards to make sure your files get printed just the way you expect.

We don't rest until you are 100% satisfied

You will talk to a live person when you call during normal business hours.

You can get true PMS (Pantone Matching System) Colors on One and Two Color jobs - unlike most online printers.
You can send us just about any digital file format!
You can get professional full-color printing of any Mac or PC file including Quark, Publisher, Photoshop, Indesign, Illustrator, and CorelDRAW! And all popular file formats with instant pricing, online ordering and proofing and browser based file uploading. We provide professional-quality printed pieces, including brochures, postcards, letterhead and envelopes , stationery, booklets, catalogs, and newsletters.
Can I Buy High-Quality Printing Online?
You bet you can! Just give us a call at 800-378-0378, and judge for yourself. MyPrintShopOnline.com is simply an online gateway to a company that has been serving hundreds of clients in the St. Louis area for 14 years. We have always focused on 100% customer satisfaction, and stand behind every job we produce with a 100% Satisfaction Guarantee. Most people who try us once become regular customers, ordering several times a year. Although we are always keeping up with the latest technology, our philosophy is still old-fashioned. We build long-lasting relationships with clients, and we help them to solve their problems related to getting print jobs designed and out the door.
Professional Quality and Lower Prices -- You Get BOTH!
At MyPrintShopOnline.com, producing high-quality, low-cost color printing from any graphics file is our specialty. Because of the large volume of business that the Internet creates for us, we do it for about half to 10% of the price charged by most local commercial printers. Use the links on the left to go to our individual product pages to see our low prices.
100% Satisfaction Guarantee
We want you to be very happy with our printing! If you are not happy with the work we do, we will make it right. It's that simple. Please realize that monitor calibration varies widely, and it is impossible for us to run all jobs to match what different clients see on their monitors. We run to uniform ink levels and a "pleasing color" standard that is based on the PMS colors and CMYK screen densities listed in your file. We will complete your project in accordance with industry-wide trade standards for color and registration. If you find an error that we created, or any other manufacturing defect, simply email us for return instructions. (We will even pay for the freight to return the job if it is our mistake.) When we receive your job back, we will reprint it at no cost to you, from your original file. This guarantee does not cover customer errors like incorrect copy or poor photography, so be sure to check your proof carefully. You can be assured that we want your job to look its very best!
We Use Real Presses and also Digital Printing Machines.
We have the capabilities to produce true 4-color process printing on a real printing press, and can also produce the same job on a high quality digital color machine as well. We choose the best method of production based on the job and the quantity. This flexibility allows us to provide the best possible pricing and quality to you -- no matter what job you send to us.
MyPrintShopOnline.com Can Handle Every Job You Have!
Whether you want a small quantity of brochures, simple color copies, or want 100,000 full color catalogs, we are ready to meet your specific needs. Are varied equipment capabilities allows us to match the right equipment with the job you need done to keep your prices low and the quality high. Instead of spending a ton of money of ink cartridges for your ink jet printer, not to mention the hours and hours of printing time it would take, why not let us do the job for you are a fraction of the cost and with higher quality.
To get an instant price using your exact specifications, click on the links at the left or on the pictures above..
You won't have to wait long!
We will print and ship your order within 4 business days of your proof approval (unless otherwise specified). Once we receive your order, we'll email you a proof within 48 hours -- often the same day. UPS ground takes 1 to 5 days nationwide. Many commercial 4-color printers take weeks to get a job done. Why wait? Use MyPrintShopOnline.com to order printing from the convenience of your home or office, and save lots of money and time.
Plus, if you need your order even faster, we offer our Rush service on most of our products. We'll ship it as fast as 2 days after proof approval. Even with the extra fee for Rush handling, you are still paying less than you would at most printers, and you'll have your order in just a few days!

How It Works
Select the product type you are interested in at the left or above
Go through the order screen to give us the specs and get a price.
Select the document file to upload.
Complete payment and shipping info.
Once your file has been successfully uploaded, our pre-press experts will review your file, looking to eliminate any problems, to make sure you get the results you want. Unlike most companies, we have no extra or hidden charges for reviewing your file and fixing most problems.
When it looks good, we will email you a "proof" of your job for you to review, and send you an email with a link to view your proof -- usually within one business day.
After you review your proof, send us a return email and say "Print My Job" and we will begin production. If you see problems or corrections you wish to make at this point, email us back with your instructions, and we will make them for you for a small charge.
If there are major revisions, you can also upload a new file for us to work from, or you can cancel your order. In the case of a cancellation, we will refund all charges less a $39.00 cancellation fee.

New To Our Site?
Exclusive Offers
Become a MyPrintShopOnline Insider to receive exclusive offers and tips
Fill out this form
to sign up...

Sign up now to receive your FREE subscription to our Print Marketing Tips Newsletter. It's packed full of valuable tips to help you reduce your printing costs and market your business more effectively. a $147 value -- yours FREE! Plus save 10% on your first order.