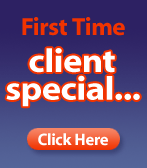 Tip of the Week
Make sure your photos are 300 dpi or better. What does that mean?
It means DON'T pull your photos off your website. Use the original photos from your digital camera, or scan color prints at the highest resolution your scanner will allow.
Warning: Low-Resolution Images Don't Print Well!
Many images, particularly 72dpi jpegs taken off the Internet, look jagged and blurry when printed on paper, especially glossy stock. Those images have already been reduced in resolution so they load fast on the internet, and you can't go backwards to make a low resolution file into high resolution. You need to start with a high resolution file. For best results, we recommend that your images be at least 300dpi (dots per inch). The best thing to do is send us the original images from your digital camera.
To get good images from your digital camera, use the highest quality setting available on the camera.
The Art of Finding an Extraordinary Baby Gift

Baby Gifts could be basic or exquisite, common or creative. Any new mommy and daddy would be happy with a baby shower gift that is distinctive, thoughtful and useful. BlissLiving.com offers wonderful baby gift ideas for all celebrations.



The Steps to Find the Perfect Baby Products:
Ask the mom and dad directly or ask their closest friends and family members about what items they should desire for their newborn's birthday.


Apply your experience as a mother or father (or ask someone you are acquainted with who has young kids): What baby present could you not live without all through the first twelve months? Some of the baby stuff that parents appreciate receiving are baby crib bedding, baby blankets, baby playmat, or toys. Bliss Living offers the award-winning "Big Voyage Plush Pull-Toy". It has three different sized characters ride in their little wagons, which chain together with a button and loop. Pull off the wheels with their Velcro strip and the wagons become stacking plush cups. The plush animal rattles provide a sorting activity.


Find out what the new parents wish for. Do they desire a baby double stroller, a newborn Moses basket, a trendy diaper bag, a cashmere baby blanket? Bliss Living offers luxurious cashmere baby blankets that are made with ultra-fine natural fiber, offering the baby the ultimate softness, warmth and breathability.


Celebrity moms and celebrity babies especially enjoy personalized baby gifts. Consider monogrammed onesies, fleece baby blanket or a distinctive baby wall art with the newborn's name. One popular gift item is the ""My Name is" Boy Canvas Art". Bliss Living offers personalization where the child's name is hand-painted onto the artwork, further giving the art a distinctive, original look, and making it great for baby or children gifts.


Silver baby gifts represent a traditional choice. They are extraordinary baby presents that will be valued for the child's whole life. Consider purchasing a "Silver Brush & Comb Set" or a 5" x 5" Silver Baby Frame. You can't make a mistake with vintage offerings like these. Another great idea is to give a baby memory book, a baby photo album or a baby scrapbook. Bliss Living's "Baby's First Book", is their most popular baby memento journal album. It contains whimsical sheets with themes to fill with memories of your precious little one. The baby book also includes a vellum envelope to hold clippings from baby's first haircut or other small treasured baby keepsakes. The 24-page album will chronicle all your precious memories of baby's first year.


New parents will like gift suggestions for their baby nursery room decoration. Consider newborn nursery theme stuff including the "Princess Crown" on canvas artwork or a personalized "Backyard Bugs" growth chart. Baby's first room is particularly distinctive so the new mom and dad tend to impart a bit extra energy furbishing the infant's room.


If you would like to bring a gift for the baby's nursery decor, find out from the mom and dad what motif they are considering for the baby's bedroom. The "Sports All Star" baby nursery wall art for girls can be personalized. The Mermaids growth chart and more newborn's room decor ideas must correspond with the plan that the parents are looking at for the baby room. Other fun nursery decor ideas are Personalized Name Plaques & Tiles, children's rugs and Wooden Hanging Letters. The "Central Park Rug" is a piece of the "big wide world" scaled for a child's world. This rug adds a touch of subdued whimsy to a child's bedroom or playroom.


To sincerely inspire the new parents and jump out from the other people's baby shower gifts, presenting a baby gift basket is the trick. You may find various stylish arrangements that cater to newborn girl, boy or twins. "Baby Pizza Lover" gift basket for baby boys conveys a memorable touch. The "Baby Bliss" gift basket for girls is very sweet. For baby twins gift, consider the "Two Cute! Gift Basket". Twins are twice as nice and so is this gift basket designed especially for them. Basket beautifully stuffed with essentials that baby needs. Select the appropriate color combination to match the twins. Come delivered beautifully gift wrapped in cellophane with a ribbon.


Evaluate your contributing budget. If you don't like to spend a little more than fifty dollars, purchase baby clothes, gingham burp cloth set, or precious fleece baby blanket.


A popular baby gift item is a Moses basket. Thoughtful and light, Moses baskets are a great "first bed" for a newborn. Bliss Living's Moses baskets are made of tightly woven wicker construction fibers and the padding includes a 1" cushion to provide super soft comfort for the baby.


If you can not determine exactly what to get, you can never fail by giving a baby gift certificate. The mother and father can enjoy purchasing with your gift.


Suggestions:
When the gender of the baby is not known, pick out gender-neutral tones including yellow, off white and soft green.

Since a baby shower is to jubilate the upcoming arrival of the baby, purchasing a gift for the baby rather than for the mom is more suitable.
Visit Bliss Living Baby Gifts and Nursery Decor for all your baby shopping needs.


New To Our Site?
Exclusive Offers
Become a MyPrintShopOnline Insider to receive exclusive offers and tips
Fill out this form
to sign up...

Sign up now to receive your FREE subscription to our Print Marketing Tips Newsletter. It's packed full of valuable tips to help you reduce your printing costs and market your business more effectively. a $147 value -- yours FREE! Plus save 10% on your first order.